ACNS Newsletter – August 2022
Welcome to the August 2022 ACNS newsletter. We announce the inaugural winner of the ACNS Outstanding Service Prize!
You can find all previous newsletters in the newsletter archive.
---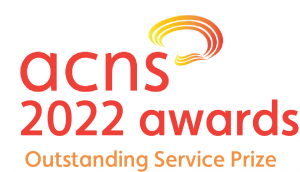 We're thrilled to announce Gemma Lamp as winner of the ACNS Outstanding Service Prize! 
This award recognises Gemma's exceptional contributions to the ACNS. Gemma's work has left an indelible mark on ACNS culture. She has shown a deep commitment to ACNS and its core values of equity, diversity and accessibility. Gemma's work as both Chair and member of the Inclusivity, Diversity, Equity & Accessibility (IDEA) group, and her work advocating for students and ECRs, has been instrumental in contributing to the ACNS progressive and supportive culture.
In particular, Gemma has:
Chaired the IDEA committee, including writing numerous policies and procedures to support the ACNS values of equity, diversity and accessibility
Social media representative for @ACNS_Official and @ACNS-ECR
Coordinated, moderated, and contributed as speaker for a number of ACNS workshops
Elected as student representative for the ACNS Executive Committee
In notifying Gemma of her Prize, ACNS President A/Prof Hannah Keage noted:
"The ACNS Executive met today and unanimously voted for you to receive an ACNS Outstanding Service Prize (the first!).  Huge congratulations!  This Prize aims to recognise members who have made exceptional contributions to the ACNS.  Thank you for significantly and consistently contributing to the ACNS at a level that is well beyond reasonable expectations.  It is HUGELY appreciated."
In accepting the award, Gemma said:
"Just to be nominated for an award like this means the world to me, but to be the inaugural winner feels like a dream! I've been to almost every ACNS conference over the years and it remains my favourite conference. The connections and friendships I've made through ACNS keep me going through my career, and I'm so grateful that our society even exists! I hope to continue contributing to ACNS throughout my career in any way,  to give back for all I've received from the society! Thank you so much for everything!"
Gemma's award will be formally acknowledged at the AGM later this year. Gemma is also our featured member this month, so if you'd like to hear more about the work she does outside of ACNS, check out the feature below.
Do you know someone who has made an outstanding contribution to ACNS? If so, nominate them for this Prize! Nominations are rolling, which means that there is no closing date – the Executive will consider nominations as they are received. There is no maximum or minimum number of awards given out each year.
Nomination details are available here.
---

Member Profile – Gemma Lamp
Please tell us who you are, your institution and your title
Gemma Lamp, La Trobe University, PhD Student (also Deakin University, Research Fellow)
Tell us a little about yourself, and your research interests
I'm currently in the process of writing up my PhD, which examined visuomotor inhibition using kinematics, eye tracking and magnetoencephalography. However, majority of my work prior to this has been in fMRI – my Honours and Masters projects were looking at working memory and attention in fMRI, and I also worked at the Florey Institute of Neuroscience and Mental Health looking at neuroimaging in stroke rehabilitation. My research interests include working memory, attention and neuroimaging, but I am also really passionate about science communication and research integrity, including initiatives to improve inclusivity, diversity, equity and accessibility.
How did you get involved with cognitive neuroscience? What is it that you love about our field?
I originally started a degree in behavioural science with the intent to become a child psychologist, and in third year we were required to choose a research topic for the year. I chose to work with Sheila Crewther as I knew she did a lot of work with autism and I had thought it would be a good introduction to the field. However the project she had for her topic was in visual neuroscience. Much to my surprise, I enjoyed the topic so much that at the end of the year when an honours project in cognitive neuroscience was offered to me by David Crewther- I jumped at the opportunity! Both the Crewthers introduced me to cognitive neuroscience and I was hooked. I realised that while I was passionate about helping others, particularly children, the most significant way to help was to further our understanding of the how the brain works which would in turn help develop ways to treat mental health. This has become my life goal, and I hope that I can contribute to understanding how cognition works in the brain.
What are your interests outside of neuroscience? 
Outside of neuroscience, my major passion is dancing! I've been dancing since I was 2 years old and over the years I have performed all over Australia. I've won competitions, been part of a circus, performed in festivals, and even contributed to two Guinness World Record performances. The largest performance I have ever done was at The Forum in front of 1400 people where we opened for the comedian Dave Callan. While I don't perform much these days, I still regularly dance at a local studio and hope to be dancing my entire life!
If people want to contact you, how should they do so? Do you have any social media profiles people can follow? 
I'm on Twitter as @neurogem and this is regularly checked so feel free to add me on there!
---
Thank you to everyone who contributed to the Australasian Brain & Psychological Sciences conference in July!
It was wonderful to see everyone, to hear some great science, as well as to celebrate our recent awardees – Kelsey Perrykkad, Angie Renton, Trevor Chong, and Frini Karayanidis! And how wonderful to interact with our colleagues in EPC and OHBM-Australia!
Active ACNS members were sent a survey regarding future joint conferences, earlier this week. Please check your inbox and let us know your thoughts about ABPS and the future of joint conferences in our Society. The survey is open for 2 weeks following the date of the email.
---
Cool stuff we found on the interwebs
Stuart Oldham's MATLAB code to plot brain surface 
It allows you to plot the boundaries/borders of regions on a surface. See here
Generate a 3D city with your GitHub contributions graph. What would your city look like? See here
How do you search and read scientific papers? Vrinda Nair provided an overview on Twitter of the process she follows. It includes tools such as  Open Knowledge Maps, Inciteful, and Scholarcy. Want to know more? See here
hctsa : highly comparative time-series analysis 
hctsa is a software package developed by Ben Fulcher for running highly comparative time-series analysis using Matlab. The software provides a code framework that enables the extraction of thousands of time-series features from a time series (or a time-series dataset). It also provides a range of tools for visualizing and analyzing the resulting time-series feature matrix. See here
Neuromaps Academy Job Board
See here
Academic Job Search Resources
Prof Mason Garrison's provides some resources they used during their job search. See here
How can you drive change in research assessment? 
eLife speakers discuss the importance of meaningful research assessment and opportunities for early-career researchers to drive this change. See here
Know of a cool package or online resource that you love? Or maybe you've written your own! Send it to acns@acns.org.au, and we can feature it in our next newsletter. Let us know why you like it!
---
Elizabeth Penfold Simpson Prize
The Brain Foundation administers the  Elizabeth Penfold Simpson Prize for research.  The $20,000 prize is awarded to the author of the best piece of original research in any of the neurosciences published in the last two years on the advice of three or more judges nominated by the Brain Foundation.
The research must have been conducted wholly or substantially in South Australia.
Applications close 26 August 2022
See here for details
New essay competition for Brain 
Brain are launching a new competition, seeking writing which stimulates, provokes and makes our readers reflect. The best of these will be published in our 'Essay' section and highlighted on our website and social media as an 'Editor's Choice' article, which will be freely available to all readers.
Applications close 30 September 2022
See here for details
SOBR Brain Art Competition
Create a piece of art in any form (i.e. painting, digital etc.) that has the theme of the brain. This could be of the whole brain or some neurons, the more creative the better! This could also be a creative photo of MRI imaging of an actual brain (if human, please ensure the image is deidentified). Attach a photo or the digital artwork itself (pdf, jpg or png form) below and fill in some information about you.
See here for details
BrainHack Australasia
Brainhack Australasia would like your input! Brainhack is a collaborative conference, where the community works together building tools for reproducible neuroimaging and open science. Brainhacks are great places to learn or flex your computational skills in neuroimaging. To see what we're about see our review paper in Neuron https://doi.org/10.1016/j.neuron.2021.04.001. This year the Brainhack Australasia meeting will be in-person! But where? When? Complete our short questionnaire to tell us your preferences https://sydney.au1.qualtrics.com/jfe/form/SV_0wWmYMZcA1OIdOm
---
Enterprise Fellows at UniSA, Adelaide
A number of openings across multiple disciplines, all with a research-focus for the first 5 years, rolling over to a continuing teaching-research role thereafter.  Levels C and D (senior lecturer to Associate Professor).
Please contact Hannah.Keage@unisa.edu.au or see here if you'd like to know more.
CSIRO Postdoctoral Fellowship in Behavioural Science, Adelaide
In this position you will use statistical modelling techniques to conduct research on the identification of certain profiles or segments of people based on behaviours and other characteristics (psychological and personal).
Applications close 15 August 2022
See here for details
Associate or Senior Editor, Nature Reviews Psychology
Seeking an enthusiastic and motivated Associate or Senior Editor with broad understanding of the social or clinical psychology landscape to join the editorial team and help shape the identity of this new journal.
Applications close 18 August 2022
See here for details
Magnetoencephalography (MEG) Technician, Swinburne Neuroimaging
Based within Swinburne Neuroimaging of the School of Health Sciences and reporting to the SNI Operations Manager, this technical role is responsible for supporting the day-to-day operation and maintenance of the MEG laboratory infrastructure and other neuroimaging modalities and tools. This position is broad in scope and requires strong communication skills, and a high degree of initiative and self-management to deal with the range of functions and tasks.
Applications close 7 August 2022
See here for details
3-year postdoc position in neuroimaging for psychiatry, University of Minho Portugal
See this tweet for details
PhD and postdocs, Imperial College UK 
Dario Farina and Juan Alvaro Gallego are looking for PhD students + Postdocs to work on the neural control of motoneurons. Projects will span a combination of basic neuroscience, motor control and "Muscle-Computer Interfaces". See here
Global Brain Health Leaders for the 2023-24 Atlantic Fellows for Equity in Brain Health Program
The Global Brain Health Institute (GBHI) embraces science, art, and creativity to improve our understanding of brain health and dementia, and to lead change in practice, perception, and policy.
Since 2016, the Atlantic Fellows for Equity in Brain Health program has trained a global community of emerging interprofessional leaders in brain health and dementia prevention through its 12-month residential program at its founding sites at the University of California, San Francisco (UCSF) and Trinity College Dublin (Trinity).
GBHI is pleased to announce that applications are now being accepted for the 2023–24 Atlantic Fellows for Equity in Brain Health program commencing in September 2023.
Applications close 5 October 2022
See here for details
---

Peter Robinson presents: The Physics of Multiscale Brain Structure and Dynamics
Date: Tuesday 16 August 2022
Time: 12:00pm – 1:00pm
Venue: Melbourne University
This talk briefly outlines the basis of NFT and how it is used to explain brain dynamics and function starting from its physical structure. In particular, it explains phenomena such as natural brain resonances and modes, the effects of external stimuli, criticality, wave-wave interactions, and epileptic seizures. Links to underlying brain structure and physiology can also be inferred by fitting NFT predictions to data, leading to a wide variety of applications in imaging and monitoring. The talk will also touch on some of the numerous open questions that would benefit from deeper collaboration between physicists and neuroscientists.
See here for details
Annual VBIC Network Meeting
Date: Thursday 24 November 2022
Time: 9.30am – 5.30pm
Venue: Monash University Clayton Campus
The Victorian Biomedical Imaging Capability (VBIC) provides a coordinated network of capabilities and research capacity in biomedical imaging to support universities and medical research institutes. Register here.
This meeting will be held as a hybrid face-to-face/ online
event.
Monash Biomedical Imaging Webinars
Prof Nao Tsuchiya
Integrating theory-guided and data-driven approaches for measuring consciousness
12.30-1.15pm
Wednesday, 31 August 2022
Clinical assessment of consciousness is a significant issue, with recent research suggesting some brain-damaged patients who are assessed as unconscious are in fact conscious. Misdiagnosis of consciousness can also be detrimental when it comes to general anaesthesia, causing numerous psychological problems, including post-traumatic stress disorder. Avoiding awareness with overdose of anaesthetics, however, can also lead to cognitive impairment. Currently available objective assessment of consciousness is limited in accuracy or requires expensive equipment with major barriers to translation. In this talk, we will outline our recent theory-guided and data-driven approaches to develop new, optimised consciousness measures that will be robustly evaluated on an unprecedented breadth of high-quality neural data, recorded from the fly model system.
See here for details.
---
Got something to tell your fellow ACNS members? An event, a job, or new opportunity you'd like to share? Email 
acns@acns.org.au
 before the end of the month, and we'll add it to the Newsletter!